Fostering healthcare research
by providing public assurance of ethics.
The BioMedical Ethics Committee
The BioMedical Ethics Committee (BMEC) is India's first independent ethics committee, set up under the aegis of Apothecaries Foundation. Constituted according to the laws of the land and operating in compliance with the best international practices. Apothecaries Independent Ethics Committee has been undertaking review of research protocols and continued review for any Investigators and Trial Site that choose to avail its services.

The BMEC has been operating with the objective of facilitating clinical research particularly:
in institutions which do not have a GCP compliant Ethics Committee

in institutions seeking additional ethics review of clinical research projects

by Investigators who are not affiliated to major medical institutions

academic researchers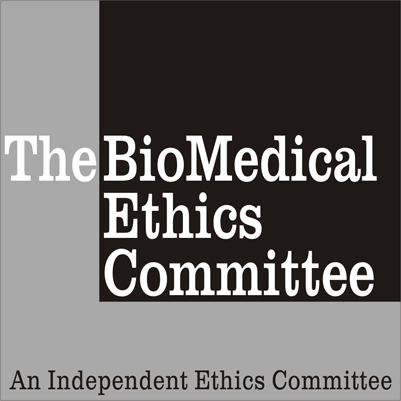 The BMEC strives TO BE
Concerned about safeguarding the rights, safety and well being of study subjects and patients

Responsible and accountable to researchers by offering efficient and swift reviews

Responsive to researchers' and study subject's needs

Objective

Systematic

Balanced and fair

Having faith in the dignity and professionalism of researchers and sponsors

Gate keepers for ethics in research

Independent, credible, dignified and financially viable

Open to others' ideas and concepts

Compliant with contemporary Indian and international requirements for ethics review
The BMEC strives NOT TO BE
Concerned about issues extraneous to bio-medical ethics

Operating at our own convenience, pace, preferences or priorities

Overbearing or overzealous

Unpredictable, capricious or alarmist

Bureaucratic

Skewed towards study subjects or researchers

Suspecting them of malice or misdeeds

Road blocks in research

Dependent upon anyone to fund operations or growth

Rigid about point of views

Autocratic
The BMEC believes that good Sponsors have a very high stake in ethics & science. They have no use for incredible data generated by unethical research.
Anyone conducting research in India can avail of our services.
​
CDSCO – the India's Regulatory Authority issued an order on July 30, 2013 (ECR/Misc/Indt EC/007/2013) stating "no new clinical trial shall be reviewed and approved by… independent ethics committees." The BMEC has since then has ceased reviewing protocols for clinical trials involving new drugs. The BMEC believes that sooner than later - better wisdom shall dawn and prevail in this regard.